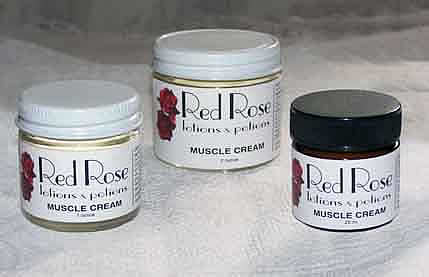 Muscle Cream
It is composed of 10 essential oil products. Two of the products are blends (of several oils from Young Living) and the remaining 8 are single oils. This cream is designed to assist the body in healing muscle sprain, strain, wound healing (around the edge of the wound!), tendon and ligament injuries.
Ingredients
Charlie's distilled water, organic oils of: olive, jojoba, macademia
nut, rose hip, evening primrose and coconut oil, beeswax, shea butter, cocoa butter, aloe vera, Vit. E.

Essential oils:  black
pepper, Roman chamomile, ginger, arnica oil, juniper, nutmeg, peppermint,
rosemary, and sage. Vetiver essential oil blends, Perelandra flower essence.